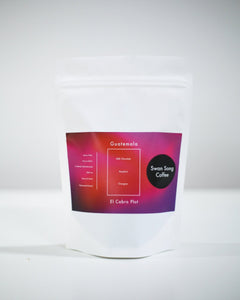 'GUATEMALA EL CABRO PLOT' ESPRESSO BEANS
Regular price
Sale price
£10.00
---
Coffee beans - 250g
We taste: Milk Chocolate, Hazelnut and Orangina.
Origin: Guatemala
Region: La Libertad, Huehuetenango
Producer: Maria Vides
Farm: Finca La Bolsa
Altitude: 1800mts
Varietal: Caturra & Catuai
Process: Pre-Fermented Washed.
Swan Song Coffee - Manchester
"I started Swan Song in November 2018 after wanting to do something of my own within coffee for as long as I can remember. I've always loved how speciality coffee really made a point to define itself as 'different'. For me, I wanted to create a small roastery where the product I offer each time is an honest reflection of my personal values towards coffee and somehow to incorporate the other passions I have.
I'd describe the approach of our roasting as technology-aided artisan roasting. Using state of art roasting equipment in the form of our Stronghold S7 Pro to produce brilliant tasting coffee consistently in small batches. I just hope to be able to represent the outstanding producer's whose coffee and story I do my best to represent in the best light I possibly can.
The core principles of Swan Song Coffee are sustainability, transparency and traceability. I want to always display as much information about the producers and the communities as I'm able to obtain through the variety of award-winning and reputable importers we partner with to source our coffee in a fair ethical manner. I just want people to enjoy the story, the coffee and give people a moment in their day to really look forward to and treasure"
The Story behind this coffee:
Close to the most western border with Mexico and the Pan-American Highway, La Libertad has the high altitude, plentiful rainfall, lush shade and moderate temperatures needed to grow exceptional coffee. María Elena Vides de Ovalle's father - Dr. Jorge Vides - started to grow coffee at La Bolsa in 1958 and was awarded the prestigious Outstanding Coffee Grower award from ANACAFE (the Guatemalan national coffee association) in 1984, just as the world was beginning to acknowledge the potential of great specialty coffee. I feel a better reflection of this great man's character is that the local hospital in the coffee growing community is named after him.
Today, María Elena's son Renardo Ovalle and the farm agronomist Mercedes manage La Bolsa and now also take care of four anexos (neighbouring properties) to help the extended the family business. All of the new plantings are established in mini terraces. La Bolsa and anexos are on steep slopes and susceptible to erosion if water and run-off isn't well controlled so must be managed carefully. Finca La Bolsa competed in the 2002 Cup Of Excellence competition and placed second, scoring 94.98. An astonishing achievement for any producer and further add's to accolades this family has achieved within the coffee world.
La Bolsa sits between two mountains, which provide a very stable, humid microclimate. La Bolsa means 'handbag' and was named so as it is nestled between two mountains. This combined with the limestone rich soils give the coffee a very unique profile, with a rich syrupy body and plenty of malic and citric acidity. Which is one the main reason we've bought this coffee for espresso.
The coffee is fermented for between 18 and 24 hours, and is then cleaned of mucilage, graded in channels and soaked overnight. Finca La Bolsa is RFA certified & follows C.A.F.E practices guidelines. Coffee Care funded the construction of a school and nursery at the farm, with fully trained, full time teachers. All of the temporary and permanent staff have access to schooling for their children, and they are incentivised to leave their children at school or nursery through food donations. When a child attends school or nursery for 5 consecutive days they receive a weekly supply of rice, beans and corn. Prior to this food ration scheme it was very difficult to get people to leave their children in the care of others, and schooling wasn't necessarily valued as there is a greater pressure on earning more money to feed the family. As a result there are no children working in the farm, and the school and nursery classes are full.
Accommodation is provided for permanent and temporary workers, with separate facilities for men and women and families, bathrooms and kitchens. Sections of the farm are reserved areas, to promote biodiversity, reduce exposure to winds and soil erosion. Inga trees have been used as a shade trees, and to fix nitrogen issues in the soil which is essential for plant and cherry growth. Renardo has developed an expansive composting operation to make use of waste products, using redworms.